Tickets Bar & Grille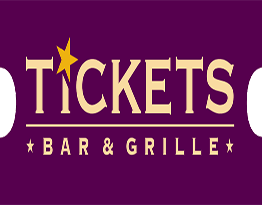 Award Winning Beach Side Sports Bar
Welcome to Tickets Bar and Grille Tickets Bar and Grille is located at 15 Aquidneck Ave in Middletown, Rhode Island. We serve breakfast, lunch and dinner daily on a property that has been "home" to many well know businesses throughout the decades. In the early 40's, here stood an eatery know as Luke's Lodge.
After several years and the passing of Luke Cole, the restaurant was sold in the 1950's to three local businesses men who built the Surf Hotel.The Surf Hotel existed for a number of years until it was destroyed by a fire in the late 60's. It reopened in the early 70's as Bo Jangles Night Club, and became a local favorite. In the late 70's and 80's the business frequently changed ownership and names;
It was Governor's Martellino and eventually Bobby Valentine's Sports Bar in the late 80's. In the 1990's the bar was sold and became Sports Tickets. It remained so until January 2007, when the building was completely renovated and is now called Tickets Bar and Grille.
With a total of 17 flat screen TV's Tickets has won a "Newports Best Award" for 7 consecutive years: "Best Place to Watch the Game" (2008) and "Best Sports Bar" (2009-2014).
The main restaurant is located on the first floor and includes a patio open from April to September. Our second level maintains the sports bar influence that we are know for, and has proven to be a real home run with the locals. So sit back, relax and enjoy your visit with us at Tickets Bar and Grille!
http://www.ticketsbarandgrille.com
15 Aquidneck Ave,Middletown
Rhode Island 02842
United States of America
401-847-7678, murrayhousebnb@aol.com
Restaurant Reservation