The White Horse Tavern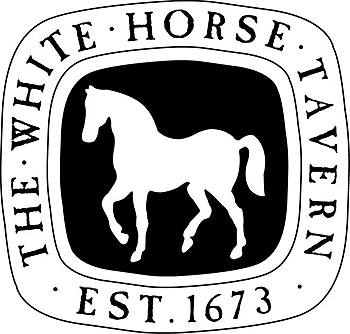 From Local Farms and Waters since 1673
America's Oldest Tavern
It's hard to imagine life in 1673 when The White Horse Tavern opened. The new world was an unruly collection of English colonies, and colonial Newport was particularly harsh with long frigid winters, no heat, electricity or other modern conveniences. Taverns played an important role in those early days, and The White Horse was a regular haunt for Colonists, British soldiers, Hessian mercenaries, pirates, sailors, founding fathers and all manner of early American folk.
Originally constructed in 1652, the tavern began as the two story residence of Francis Brinley, "the massively framed building and quarter acre of land fenced with Pailes at the corner of Farewell and Marlborough Streets" was acquired by William Mayes, Sr. in 1673 and he converted it to a tavern. Not everyone read in those early days, and public establishments identified themselves with symbols – a white horse signified tavern.
Remember our Dress Code: Business Casual, including collared shirts. Jackets are not required.
At The White Horse Tavern we strive to create a fresh, contemporary culinary experience in America's Oldest Restaurant.
Like generations before us, we serve the freshest fish, clams and lobsters from Narragansett Bay along with just-picked produce from local Rhode Island's farms. We embrace RI's vibrant food scene to bring you the very best artisan cheeses, honeys, prime cuts of beef and local fish right off the boat – all in a Colonial tavern that's been serving America for over 350 years. So join us for a taste of 21st century Rhode Island in our 17th century Tavern; You won't be disappointed!
Proper Dress Required: "Country Club" or "Business Casual" please. Jackets are not required but collared shirts are expected. Please remove hats in our establishment and mobile phones should be turned off so as not to disturb your fellow diners. Thank you!
26 Marlborough St, Newport
Rhode Island 02840
United States of America
401 849 3600, chef@whitehorsenewport.com
Restaurant Reservation