Salvation Cafe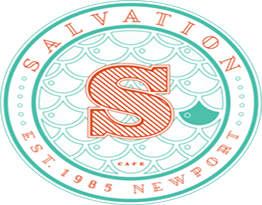 Vibrant spot with funky, creative decor known for a clever mash-up of global fare & cocktails.For a bit of the eclectic, a break for your wallet, and a change from the typical Steak and Seafood fare, find the Salvation Cafe on Broadway, right down from Tuckers.
They have outdoor dining under a protective barrier that can be reached coming in off West Broadway. Plenty of parking. Really nice tropical theme bar. The Broadway area is growing into an artsy district and this place is one of the reasons.
The food is delicious! Try the Chicken or Shrimp Pad Thai. There is a middle room inside overlooking the outside room where I prefer to sit. Nice there. Park in the back.

140 Broadway,Newport
Rhode Island 02840
United States of America
401-847-2620, info@salvationtaco.com
Restaurant Reservation