22 Bowens

22 Bowen's evokes Newport with its charm and sense of place.
It's a classic harbor side tavern, rich in texture and tradition; a place with sophisticated charm, defined by its casual elegance, indulgent food, classic drinks and warm, genuine hospitality. Step into the past and the present and be part of the scene at the City by the Sea's premier waterfront dining destination.
During the iconic summer season visit Portside, the perfect place to relax at our open-air bar or enjoy al fresco dining, soaking up the sun and liveliness of Newport's harbor front.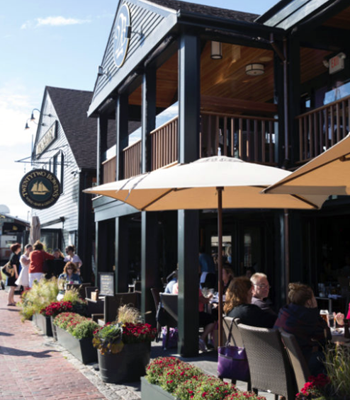 Tom Lyon
EXECUTIVE CHEF
A native of the Eastern Seaboard, Executive Chef Tom Lyon's culinary philosophy is inspired by the perennial change of our region's produce and his eloquent awareness of global flavors.
His notable experience, including a Culinary Excellence Award, has led him to explore and evolve his own artistic style that provokes 22's seasonally – inspired menus. Savored bite by bite, Chef Tom's selections reflect uniquely robust and innovative character and are wholly appreciated by both steak and seafood lovers alike.
22 Bowens Wharf,Newport
Rhode Island 02840
United States of America
401.841.8884, Murrayhousebnb@aol.com
Restaurant Reservation